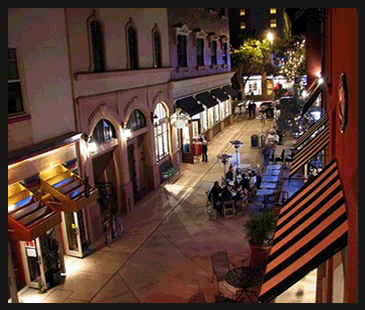 Court Street Center, San Luis Obispo, CA
Welcome to eda design professionals
eda's urban planning and design experience shows strength in combining public policy and economics with land use planning, transporation, site planning, and engineering. We bring the necessary project management skills to coordinate all of these factors and create a framework for design and development that satisfies the needs of private sector developers, municipalities and community interest groups.
Projects range from streetscape design to comprehensive downtown development strategies, going far beyond the physical design drawings alone. eda creates successful urban environments to boost civic pride, lead to investment confidence, and most of all, make the community a great place to live.
Paramount to eda's success is our ability to identify key public policy issues and direct our energies toward innovative and cost-effective solutions. We strive to communicate findings and options to our clients quickly and clearly as our clients' goals are always our highest priority.
History
Engineering Development Associates (eda) was founded in 1984 with the primary objective of providing civil engineering and land surveying services within San Luis Obispo County. Since that time, eda has expanded its services and client base serving a market area that includes the western United States and Canada. In 2002, the firm realized a landmark achievement with the opening of its new headquarters in San Luis Obispo. In conjunction with this move, the firm also adopted a new corporate image and is now known as eda - design professionals.
eda has grown into a professional service firm of civil engineers, land planners, land surveyors, construction inspectors, and managers, all serving the needs of our public and private sector clients. Our goal is to be one of the leading design firms in our industry.
Professional Affiliations
- US Green Building Council, USGBC
- National Association of Home Builders, NAHB
- International Council of Shopping Centers, ICSC
- American Society of Civil Engineers, ASCE
- Society of American Military Engineers, SAME
- California Land Surveyors Association, CLSA